This post may have affiliate links. If you click one of these links and make a purchase, we will be paid a commission at no additional cost to you.
Adding flowers that look like roses to your landscape is a great way to add some color and beautiful flowers to your yard.
Roses are beautiful but can be difficult to manage and be very time intensive.
If you don't have the gardening skills to grow roses or you want to try out flowers that are similar to roses, then we have some great options for you here.
There are all kinds of amazing plants that you can grow right in your garden. But, throughout the rest of this post, we'll go over 11 flowers that look like roses. This way you can create your very own rose-like garden!
Flowers That Look Like Roses:
Begonias
With over 1400 varieties of Begonias, you can mix and match between different colors, plant sizes, and shapes.
Most Begonias look more like wild roses than they do your typical garden rose. However, there are a few different versions of this plant that look like a traditional rose you would find in any bouquet, such as the 'Roseform" Begonia or tuberous begonia that both comes in various colors.
Some Begonias grow on the smaller side, around six to twelve inches, while other variations of Begonias can grow up to five feet. Regardless of which Begonia you choose, we recommend keeping them in a shaded area.
These plants like warmer temperatures but full sun can cause their petals to wilt. Cold weather will also cause the Begonia to die. So plant these flowers strategically. You can even keep them in your home.
Double Tulips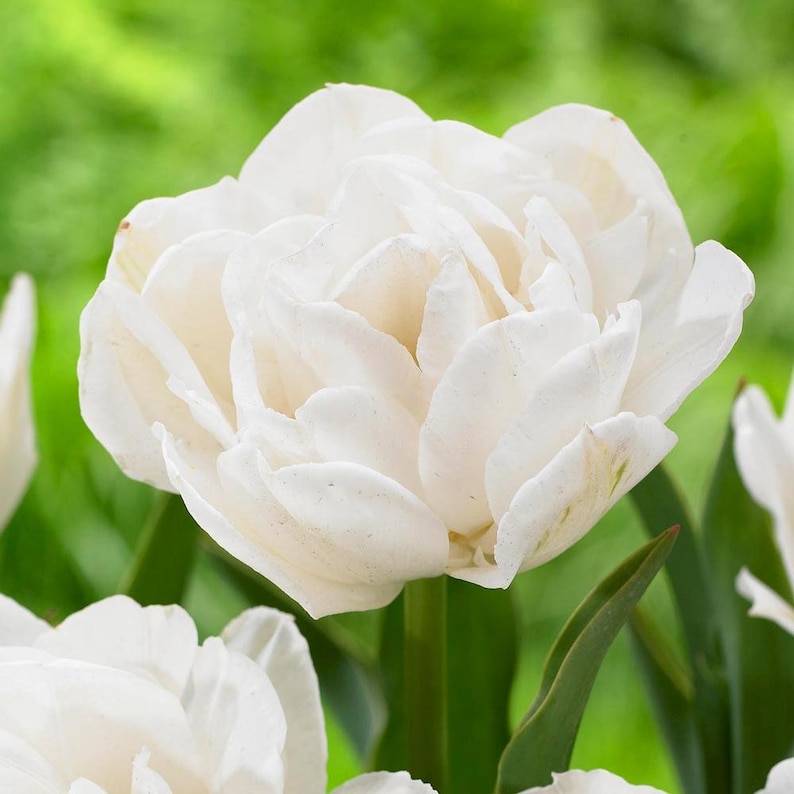 Double Tulips are stunning Dutch flowers that bloom in rich colors. These are some of the best rose-like flowers to put in a bouquet. You can easily grow and cut them for any occasion, and each tulip bulb is packed full of petals and color on top of tall stems.
When growing these plants, though, make sure that they are protected and well cared for. The heavy blooms of Double Tulips are beautiful but easily damaged by inclement weather. Many gardeners place these flowers in a garden bed, in a container, or around the border of their home to keep them safe.
In addition, Double Tulips grow up to ten to fifteen flowers at a time when grouped together so provide them with plenty of sunlight and space. You can also cultivate these plants in the fall, but their soil should be well-drained and loose for your flowers.
Peonies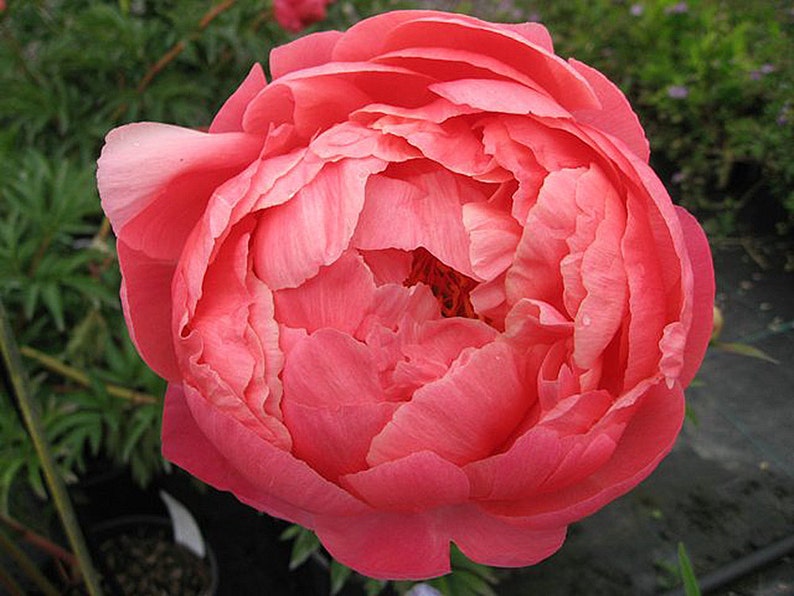 Peonies are found in gardens all across the world. There are around thirty different varieties to choose from, but two varieties of peonies reign supreme. The garden peony and the tree peony are two types of peonies you are most likely to find at your local flower shop.
These flowers have intricate blooms that look very similar to roses and come in a variety of colors. They require a little more care than some of the other flowers listed here. But, if you know how to care for peonies, then your plants can live for decades.
Peonies bloom in spring and summer with fragrant blossoms that give off a sweet but subtle scent. These fragrant blooms are great for bouquets and look attractive around the border of your home. Just keep these plants away from trees and other shrubs.
Carnations
If you are looking for a flower that looks almost identical to a rose, Carnations are probably the best choice for your garden.
These flowers look similar to an old garden rose and have the traditional double flower bloom that makes roses so iconic.
Best of all, these plants are low maintenance.
While they won't reach the same size as traditional roses, you will have a much easier time growing these hardy plants. Carnations bloom in summer and spring and require full sunlight. But you won't have to do much to keep them looking healthy.
We suggest planting them beside any walkways on your property, as this will really make your home look unique. Carnations are also ideal for bouquets and can be cut and arranged for Valentine's day and other celebrations.
Ranunculus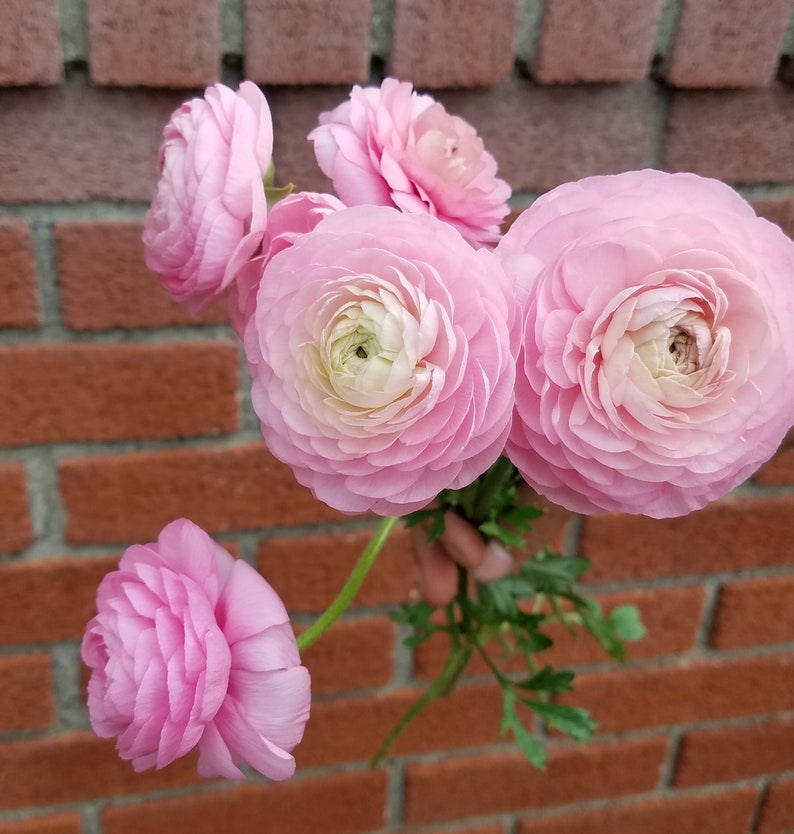 Ranunculus are not the most popular flowers. But this stunning flora is a great alternative to roses.
The multilayered petals found in this plant create a beautiful rose-like appearance that is pleasing in any garden.
Also known as the Turban Buttercup, the Ranunculus is usually grown in the Middle East. However, you can find and grow these exotic flowers in your home garden and add a bright splash of color to your house.
Ranunculus comes in a wide range of colors, but bright orange, yellow, red, and peach are the most popular color choices for this plant. To grow them successfully, provide plenty of sunshine and keep the Ranunculus out of the cold weather.
You don't want them to be in extreme heat either. These flowers need an ample amount of sunlight but too much humidity will kill them. Really, it's best to grow them in zones 4-7 as this will create the best results.
Dahlias
Dahlias have a unique but beautiful look to them. They don't precisely mimic the shape of a rose, but they bloom large and have a complicated double bloom that makes for a very striking flower bed.
Dahlias have one of the biggest varieties to choose from, as well. With over forty species of this plant, and close to sixty-thousand varieties you are sure to find a version of Dahlias that fits with your gardening aesthetic.
You can grow these annual plants from spring through summer. And they will bloom and keep their petals through the fall weather.
These flowers do best in moderate climates though. So people in hotter regions should choose a different flower.
Dahlias grow well in zones eight through eleven but with the right care, they can also grow in zones six to seven. They are found in small sizes and even larger sizes, which makes them perfect to plant around the front border of your home. The colors of these flowers are also varied and come in every hue you can think of.
Gardenia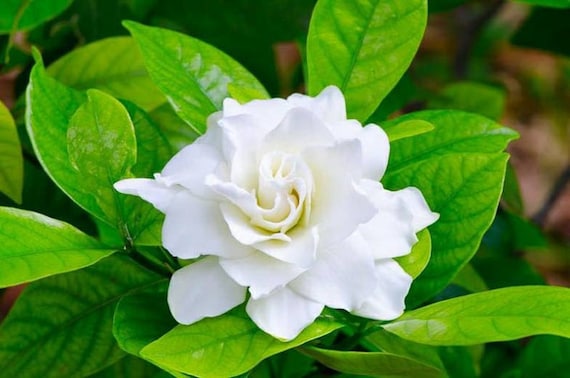 Gardenias are elegant and regal-looking flowers that bear a striking resemblance to white roses.
These tropical plants grow into large shrubs and can grow up to five-feet tall. If you want to fill your garden or yard with large rose-like flowers, this is another great option for your property.
Gardenia is known for its creamy white flowers but can be found in other colors. They also have a heady scent that changes as the day passes. Some people describe them as smelling like coconuts and even peaches.
These flowers should be placed in rich soil though. Make sure you buy fertilizer with plenty of nutrition for your plant so they grow strong and large. And grow Gardenia in zones eight through eleven with partial sunlight.
Double Dianthus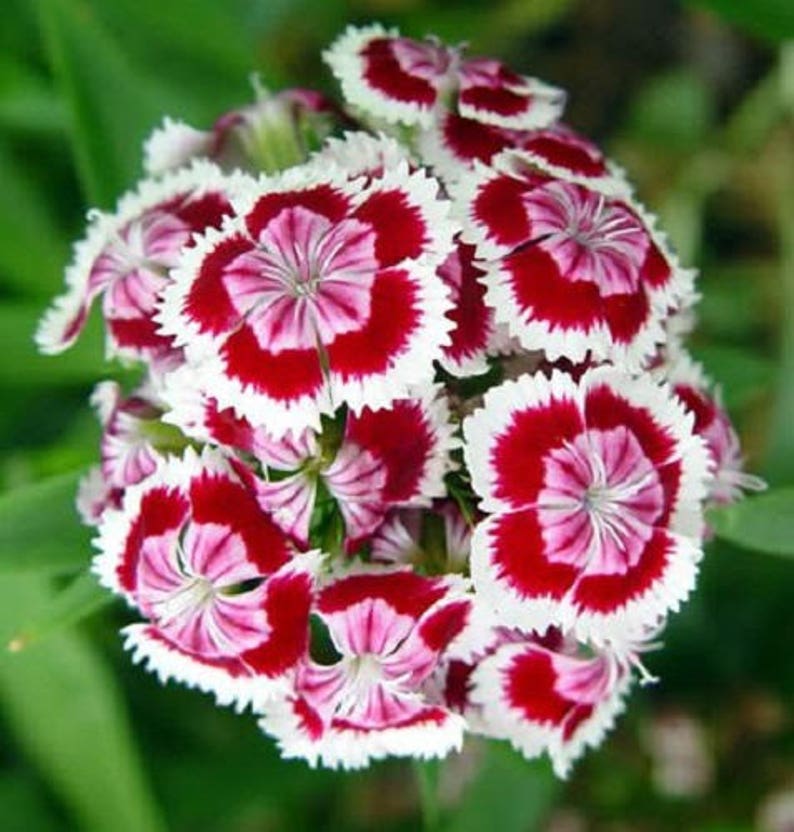 Double Dianthus are great summer flowers that bloom in moderate climates during spring and summer. This is another easy-to-maintain plant, and these flowers have a nice spicy-sweet scent that is similar to cloves.
You can find these flowers in shades of red and pink, as well as brighter yellows and oranges. There are also Double Dianthus that display more than one color.
These flowers do grow tall, so make sure they have plenty of room to grow upward. You can even try supporting the long stems with stakes to keep them upright.
Lisianthus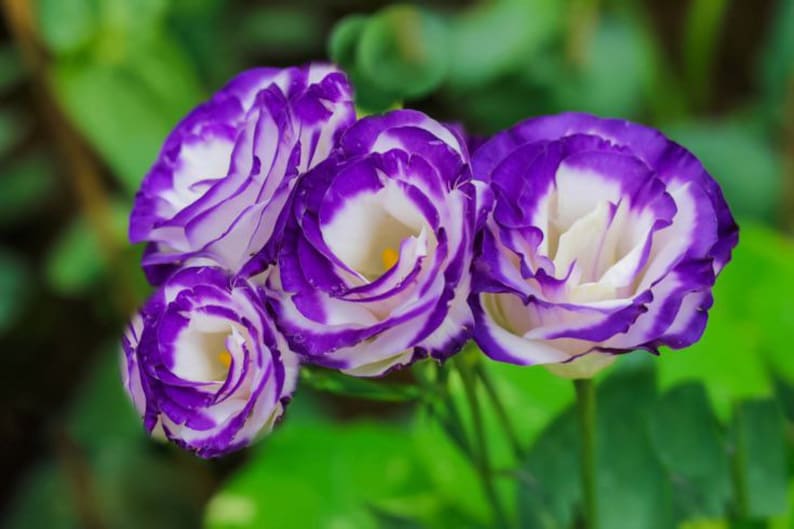 Lisianthus has full petals with a rounded cup shape that greatly resembles a rose.
The Lisianthus comes in many different colors too. You can get them in pastel colors or darker colors like blue and purple. There are even Lisianthus that have a watercolor look with white petals accented with colored tips.
The bloom of the Lisianthus is not as full as a rose, but this is a refined flower that has a lot to offer gardeners who want rose-like plants.
We recommend growing them in flower beds in a garden or in containers near the windows around your home for a nice pop of color.
This plant needs full sunlight as well and should be in well-drained soil. But it is hardy and will grow in zones eight to ten with ease.
Camellia
The Camellia flower was originally grown on the Asian continent. This rose-like flower provides gardens with many different options, as Camellia comes in over three thousand different varieties. In other words, you can grow Camellia in all kinds of shapes and colors and really customize your garden to your own tastes.
To grow these plants, you want to keep them out of direct sunlight. Camellia thrives in more shaded areas. They should have some sunlight but prefer to be out of the direct heat of the sun.
The Camellia does grow as shrubs, so you want to provide them with plenty of room to spread out. These flowers are popularly grown with white, pink, or red flowers in the spring up to early fall. Although, some versions of this flower can be grown in the wintertime.
Double Anemone
Double Anemones have a double bloom and shape that resembles Dog Roses. However, this purple flower sets itself apart from other plants on this list. Its rich purple pigment and distinctive look can transform your garden and add a special flourish to your home.
These are not massive plants that will grow like large shrub roses, but they produce plenty of flowers that are of moderate size and are much easier to grow than the rose and other larger plants.
Double Anemone can also be found in red, white, and blue. But purple is the most popular color for these flowers and many gardeners choose to plant purple Double Anemone. Since they are smaller, Double Anemone will look best bordering paths around your home, or around the front of your garden.
These flowers also prefer less direct sunlight and sandy soil. Putting them in a shaded area will help them grow better too. But they can be exposed to full sunlight if the weather is cooler.
Conclusion
Many of us love roses, but we don't have the time or experience to cultivate them.
My Grandma used to spend hours tending to her rose garden. The garden roses were beautiful. She would collect the rose petals at the end of the growing season each year and make various crafts from them.
Not everyone has all that time to take care of their roses, but by planting these rose bush alternatives, you can still get flowers that look like roses and some that are wonderfully fragrant as well.
Make sure to "PIN IT"!
Other garden inspiration
Amazing Easy to Grow Flowers
Beautiful Green Flowers
Magical Night Blooming Flowers