This post may have affiliate links. If you click one of these links and make a purchase, we will be paid a commission at no additional cost to you.
If you're looking for some beautiful green flowers to add to your flower garden, check out these options to find one you love.
We've come to associate the range of green hues in nature to signify that Mother Nature is healthy. With that in mind, you can infuse your yard with a sense of Mother Nature's boundless beauty and serenity that the color of foliage adds to our surroundings by simply planting green flowers.
Here are some of the most beautiful and popular green flowers to add to your landscape.
Beautiful Green Flowers
Amaranthus
The amaranth is a genus of green flowers consisting of 75 different species. As such, depending on the particular species, your amaranth flower can either be an annual or perennial plant.
Amaranth blooming time is mid-summer to autumn, producing cymes of densely packed long-lasting flowers. A favorite for summer gardening, amaranth thrives in full sun conditions.
Bells of Ireland
Bells of Ireland is a green flower with a storied history in gardening.
This annual plant has been cultivated since the 1500s.
It has funnel-like flowers that cluster along the plant's vertical stalks. Bells of Ireland's blooms during summer and autumn.
It is robust enough to do well in partial shade to full sun conditions. Notably, however, the plant needs well drains soils. It cannot survive waterlogged conditioned just as much as it cannot survive in dry conditions.
Tobacco Flowers – Lime Green
Tobacco Flowers – Lime Green is a tender perennial that produces 1 to 2-inch fragrant flowers that bloom in summer and last all through fall.
Its flowers thrives in full sun to partial shade and requires the soil to be well-drained but moist.
Gladiolus – Green Star
Gladiolus – Green Star is an easy to grow and easy to maintain green flower planted in spring.
This perennial plant blooms in summer, with the flowers lasting until frost comes along.
Being a vertical bloomer with the flowers covering a large part of the flowers, Gladiolus – Green Star makes for spectacular cut flowers.
For the plant to thrive, it needs moist and well-drained soils. Additionally, the plant thrives in full sunlight conditioned and sheltered from high winds.
Green Chrysanthemum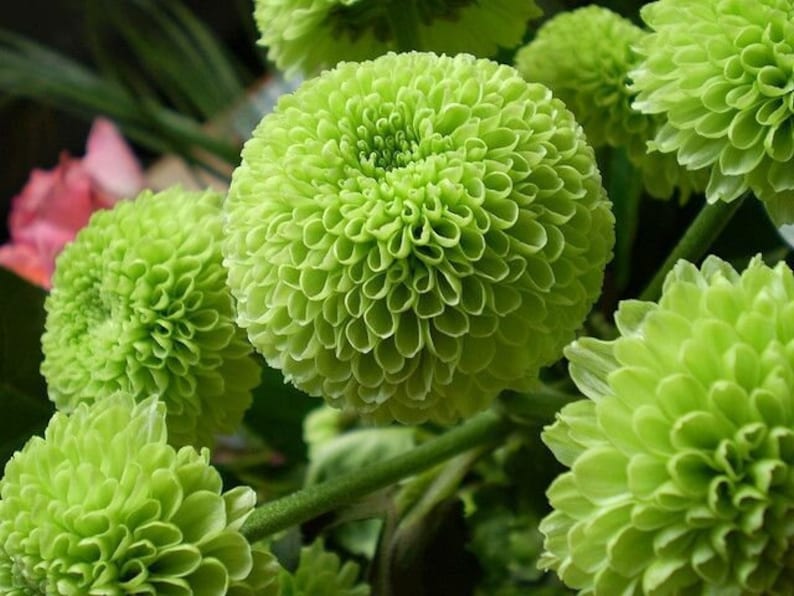 Green chrysanthemums consist of many species, some more hardy than others.
Chrysanthemums are another mainstay in border and cottage gardens. They produce a double quilled bloom that is excellent for cut flowers.
Gardeners and florists use Green chrysanthemum as both perennials and annuals, depending on the species. As a sun-loving plant, the more sunlight the plant receives, the better it will grow, bloom, and become hardy.
They bloom as early as July, with later bloomers showing their flowers as late as October. Typically, the flowers will last 4 to 8 weeks, depending on the species.
Green Zinnia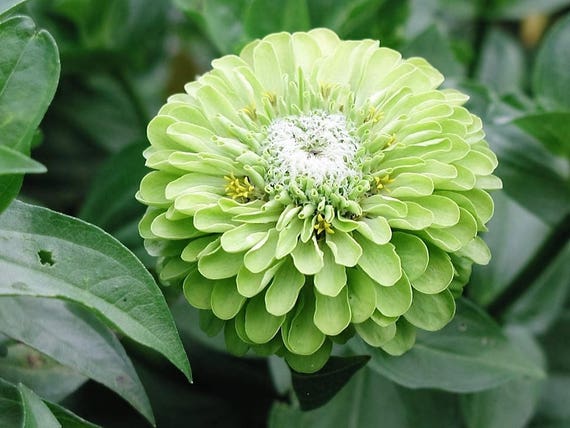 Green zinnias are an annual plant that bloom during summer and fall. However, they are frost tender and will die as soon as the first frost comes along.
In the same light, you need to wait for the risk of frost to pass before planting the flowers in the spring or summer.
Green zinnias are renowned for their ease of growing. You can grow the plant from seeds in flower beds, as long as the soil is warm.
They grow well in full sunlight, but they can grow shade and partial shade conditions.
Lime Hydrangea
Lime hydrangeas are perennial shrubs that thrive in full sunlight.
The lime hydrangeas have green sepals upon blooming. In some cases, some green hydrangeas produce flower green buds with pink, white, or blue hues or that mature to pink, white or blue.
Green hydrangeas bloom in early summer, and the flowers last to late fall. As for growing conditions, green hydrangeas love a mixed bag.
They grow well when exposed to sunlight in the morning, with some after shade. You need to protect them from the hot afternoon sun.
Hops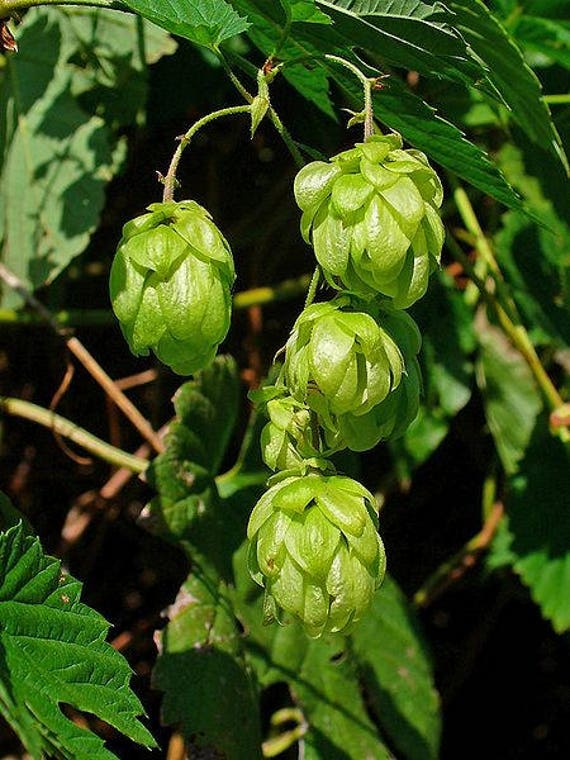 Hops are perennial deciduous plants that grow in spring and die in winter. Depending on the hops species, they bloom as early as the onset of summer and as late as July.
However, for hops to produce a bountiful bloom, their rhizomes should be more than a year old. The year of planting does not produce a lot of flowers.
Hops thrive in full sun condition. In fact, they are most productive when planted in facing the south. However, it can grow in partial shade conditions.
Tulip – Formosa Tulip
Tulip – Formosa are loved for their green and yellow striped flowers.
This unusual flower will infuse intrigue into your landscape or garden. These flowers are also great as cut flowers.
While Formosa Tulips can be grown as annual flowering plants, they are officially perennial plants that bloom in late May. They can grow in full-light or partial sunlight conditions.
Evergreen Tulip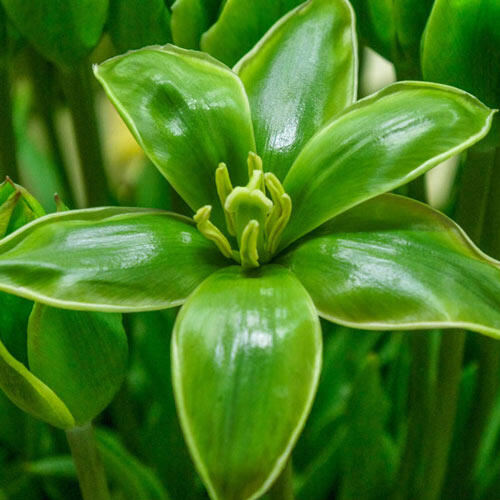 Evergreen Tulips are perennial green flowers that you plant in the fall.
Gardeners love these flowers for the apple green and soft creamy hues of their petals. The flowers bloom atop of their hardy stem in late spring. They require full sun but can grow in partial sun.
Crotalaria Cunninghamii aka Green Bird Flower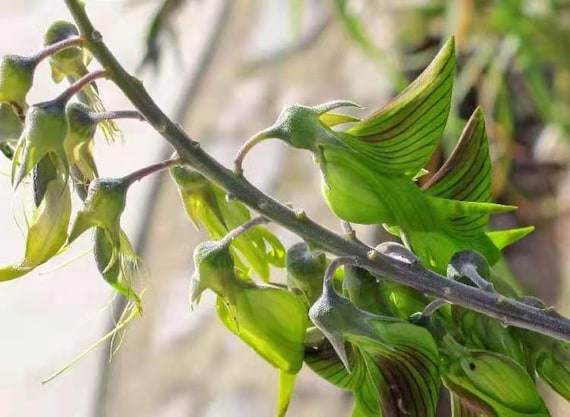 These unique flowers are a beautiful green color and from the side they look like a bird.
This beautiful flower needs to be in full sun and likes to have well draining soil. It blooms during winter and spring.
Green lady slipper orchid
Green lady slipper orchids are hardy perennial plants that bloom between May and August.
Green lady slipper orchids love filtered light, and they produce green and white flowers accented in pink hues.
Green cymbidium orchid
Green cymbidium orchids are perennial epiphytic, loved for their striking colors of the flowers.
They flower anywhere between mid autumn and mid spring, producing yellow, pink, white, and green flowers. They thrive in filtered light conditions (half-sun, half-shade conditions).
When exposed to too much sun, they will scald. On the other hand, too little sun and the leaves will turn dark green.
Dianthus Barbatus – Green Trick
Dianthus barbatus is also called the Sweet William. While gardeners grow this plant as an annual, it is a perennial or a biennial.
The plant produces spectacular green flower balls in compact and dense rounded shapes.
Its flowers bloom in early spring and last all through summer until the first frost.
For Dianthus barbatus to do well, provide the plant with nutrients rich, well-drained soil. The plant thrives under full sun conditions.
Combining its colors and hardiness makes the Dianthus barbatus an excellent choice to use in borders and cottage gardens.
Lime Hellebore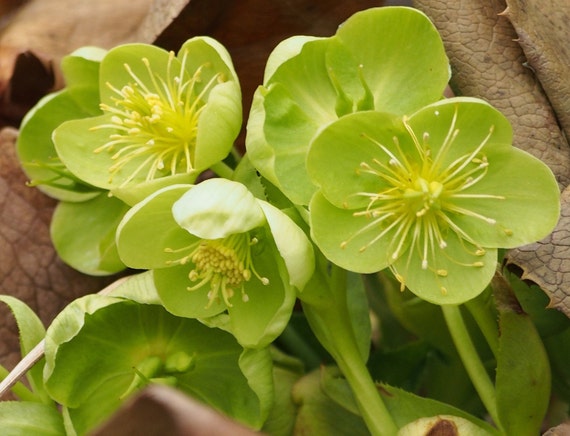 Lime Hellebore plants bloom white flowers that change to lime green in early to mid-spring. The short-lived perennial plant has a life expectancy of 2 to 3 years and is a partial deciduous plant – it does retain some of its leaves through winter.
Gardeners grow this plant in zones 6 to 9 as a hardy plant. As such, it can grow in full sun condition to full shade conditions. However, the plant will thrive in partial shade conditions.
Make sure not to grow this plant if you have children or pets who might ingest it, as it can be toxic.
I hope you found some green flowers to add to your flower gardens. Let me know your favorite green flower in the comments below.
Make sure to "PIN THIS" for later.
Other backyard flower ideas:
Flowers that Start with the Letter P
Best Easy to Grow Flowers
Flowers that Bloom at Night
Peony Care and Growing Guide