This post may have affiliate links. If you click one of these links and make a purchase, we will be paid a commission at no additional cost to you.
Adding one of these best backyard fountains will help you create a peaceful, relaxing space in your yard or garden.
There's just something so incredibly peaceful and calming about the sound of water.
Whether you're at the beach hearing the waves lap at the shore, enjoying a calm day at the lake, or floating down a river, the soothing sound of water can relax even the busiest minds.
Put a tranquil water feature in your backyard, and you can recreate that serene feeling year-round!
Best Backyard Fountains
Peaktop Outdoor Majestic Zen Water Fountain
This beautiful three-level water fountain has a lightweight concrete construction with a stone appearance. The zen-like waterfall would be the perfect addition in almost any yard.
John Timberland Faux Marble Bowl and Pillar Fountain
This sleek, 34 inch fountain features built-in lighting in the lower two basins.
The faux marble finish looks elegant and sophisticated, and as a bonus is very light and easy to move, weighing only 32 pounds.
Peaktop Outdoor Blue Glazed Pot Floor Fountain
I am automatically drawn to any beautiful blue planting pots, so this similarly-designed blue fountain definitely drew my attention! Water comes out of the top and spills over the side, creating a soothing sound and visual. Made of a lightweight polyresin, this weighs just over seven pounds, and also offers LED lighting to showcase the water feature at night.
Sunnydaze Tiered Waterfall Rock Fountain with LED Lights
This more traditional-looking waterfall rock fountain is so beautiful! The natural-looking waterfall has four tiers, mimicking the looks and sounds of a soothing waterfall. Additionally, the faux-stone fountain is actually made of polyresin and fiberglass and weighs only 35 pounds!
John Timberland Modern Sphere Curve Cascading LED Fountain
This is a much more modern-looking fountain that would look just as at home in the courtyard of a modern art museum as it would your yard. This fountain also has a faux-stone finish but is constructed of a very lightweight polyresin, which makes the water feature very easy to move and position to your liking.
Kenroy Home Stave Indoor/Outdoor Fountain with Light, Natural Green Slate and Copper Finish
This 48-inch-tall fountain is a true stunner. This piece would absolutely be a focal point in your yard! Made of beautiful natural slate, this fountain is definitely heavier than some of the others at 78 pounds, but offers simple instructions for setup. Additionally, LED lighting will ensure that this beauty is seen both day and night.
TekHome Solar Birdbath Fountain
If you're looking for just a little fountain for your avian visitors, this mini fountain is a perfect choice! Measuring at just over seven inches, this solar-powered fountain weighs less than a pound. Perfect easy setup for your backyard or table, and runs automatically as long as it's sunny out!
Sunnydaze Messina Outdoor Wall Mounted Water Fountain
This fountain is reminiscent of fountains all over Italy, and I would absolutely love to have this mounted on the back wall of my house! Weighing only 10 pounds and 26 inches tall, it's truly the perfect size. Made with a polystone material that's both durable and made to last.
John Timberland Dancing Couple Modern LED Fountain
This elegant, 57-inch tall fountain is more a piece of art than a fountain. This will truly look like a gorgeous modern art sculpture in your yard. Water cascades down the inner water feature while dual LED lights ensure that this beauty will be visible both day and night. This would be an especially touching anniversary or wedding gift.
ArtfullyRogue Metal Water Feature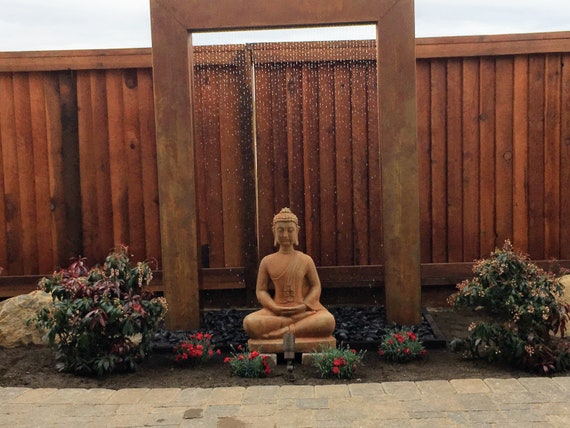 This incredible metal water feature isn't cheap, but wow does it ever make an impact! Measuring 84 inches tall by 42 inches wide, this stunner would definitely set your home apart. The water feature is constructed from copper, and also includes all the necessary plumbing for installation.
This artist also takes custom orders for specific sizing, so if you love this idea but not the size, feel free to contact him directly for more options! You can check this out here.
You can't go wrong with any of these beautiful, soothing water features. Now that the weather is getting nicer outside, bring a piece of that serene ocean, lake, or river to your backyard and enjoy the calming trickle of water from the comfort of your porch!